20.01.2023. » 11:35 | ACDC
---
Final Conference - 26th January 2023. 11.00 – 13.00
---
---
NGO ACDC invites you to attend the final conference within the NED-funded project "Promoting Inter-Ethnic Dialogue in Local Government".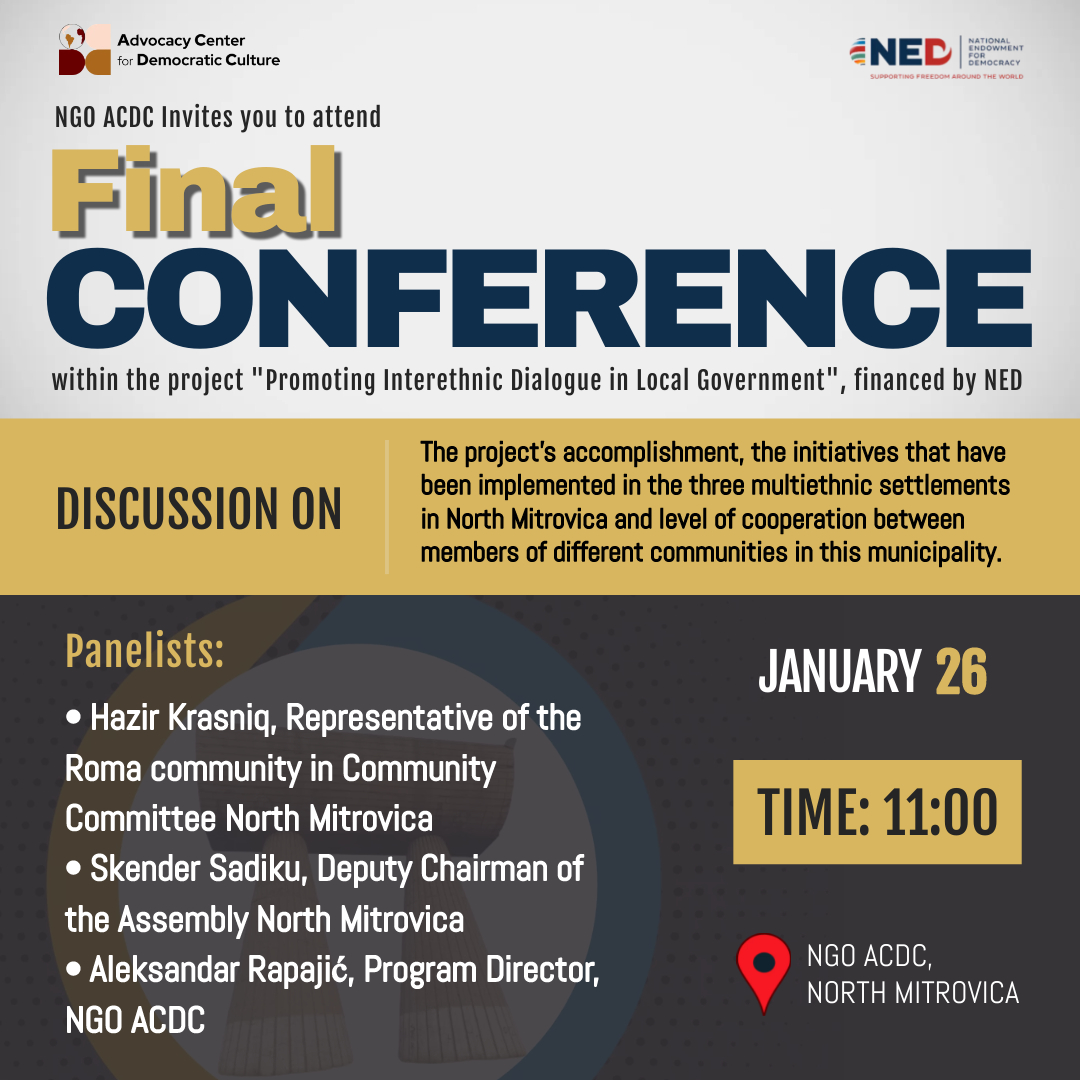 NGO Advocacy Center for Democratic Culture cordially invites you to participate in a final conference entitled "Inter-ethnic cooperation in North Mitrovica". At the conference results of the project will be presented regarding the implemented initiatives in the three multi-ethnic settlements in North Mitrovica and other achieved results from this project. In addition to this, panelists will present the situation from the perspective of their community, as well as the level of cooperation between members of different communities in this municipality.
Also, at the conference, the discussion will cover prejudices, barriers, and possible tensions among communities, how much the political situation affects everyday life, and the level of readiness for making progress together.
Panelists:
Hazir Krasniq, Representative of the Roma community in Community Committee North Mitrovica
Skender Sadiku, Deputy Chairman of the Assembly North Mitrovica
Aleksandar Rapajić, Program Director ACDC
Slobodan Stošić, moderator
The conference will be attended by representatives of the municipality North Mitrovica, civil society activists, representatives of international organizations and the media.
The discussion will take place on 26th January from 11am on the premises of NGO ACDC (Čika Jovina 3, North City Center, North Mitrovica).
Please confirm your participation via e-mail: aleksandar.rapajic@acdc-kosovo.org